Collection: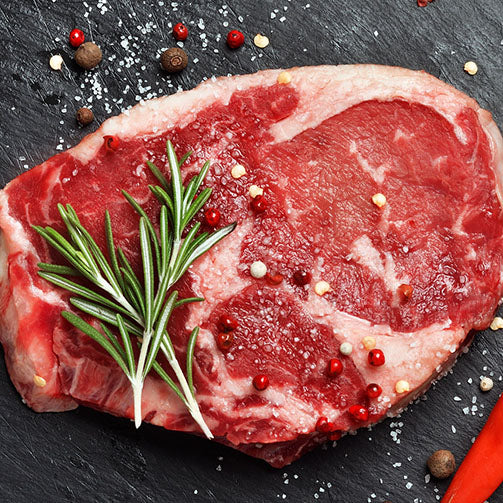 Collection:
Ribeye Steak 16oz AAA
Ribeye Steak 16oz AAA
Regular price

Sale price

$327.49
$29.77/lb., approx. 11lb box, 10 x 16oz steaks per box, individually vacuum packed, AAA aged beef
Rib Eye steaks are considered to be some off the best steaks on the market. The Rib Eye is cut from the roast—known as a prime rib or standing rib roast—that sits at the top of the rib primal, the part of the cow between the chuck and the loin. The rib eye is basically the meat between each of the ribs, which makes it a boneless cut; it is best grilled or broiled.
It is a highly desired cut of meat and deserves top billing due to its full flavor and tender texture. The generous amount of marbling (AAA) makes for a rich taste and juicy finish. Because this area of the cow gets little exercise, the muscle isn't used much and therefore the meat is nice and tender. Rib Eyes can be cut in a variety of sizes. And 16oz steak is large size, fills up your plate, and makes an impressive steak dinner. We also offer 8oz Rib Eye steaks.