Collection: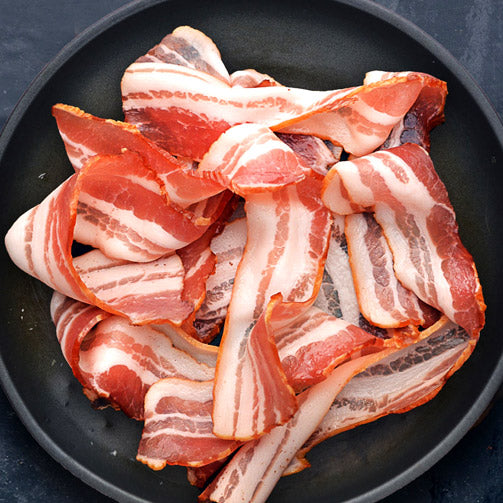 Collection:
Premium Pork Bacon
Premium Pork Bacon
Regular price

Sale price

$119.50
$11.95/lb., 10lb box, 10 x 1lb packs, vacuum packed
Bacon is salt-cured meat cut from a pig's belly or back. It is served on its own, incorporated into meals (such as eggs and bacon), or used as an ingredient in dishes like sandwiches, soups, salads, and even sweets like maple bacon ice cream.
The meat is cured—soaked in a solution of salt, nitrates, and sometimes sugar—and often smoked before you cook it at home. It is the fat in the bacon that provides most of the flavor and allows it to cook up crispy, yet tender. A hefty ratio of fat to meat—usually one-half to two-thirds fat to meat—is essential to good bacon. Since bacon must be cooked before being consumed, much of the fat is rendered out and can be poured off if need be. Also available in Club Packs.
Our pork is raised drug-free, vegetarian fed and traceable from farm to fork.