Collection: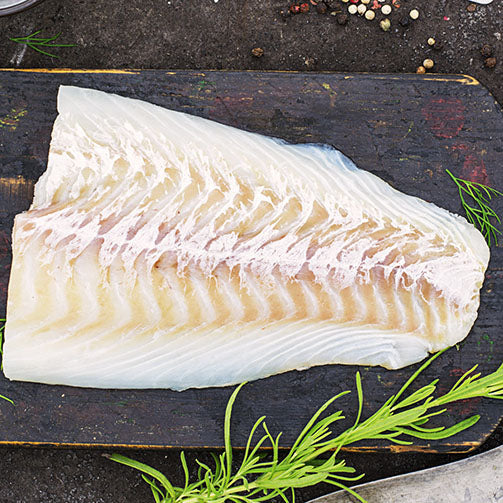 Collection:
Halibut Fillets - wild caught
Halibut Fillets - wild caught
Regular price

Sale price

$229.50
$22.95/lb., 10lb box, 6oz fillet individually vacuum packed
Halibut is a lean fish with mild, sweet tasting white flesh, large flakes and a firm but tender texture. Because of its leanness this fish becomes dried-out if overcooked. Frozen halibut is denser and less moist than fresh halibut and is easier to overcook.
This lean fish has a mild, sweet tasting white flesh. It's thicker and firmer than cod. Because the flavor is so gentle, halibut pairs well with bolder seasonings like pesto, lemon juice and basil.
The difference between halibut and other white fish is the larger flakes. When you cook seafood, the meat naturally separates into flakes.
Firmer textured fish might be more pleasing to new seafood eaters who prefer the firmer texture of other meats such as chicken, pork, or beef. Halibut tastes slightly sweet like other white fish. Halibut might have a slightly more robust flavor then cod, but its firmer texture makes it a great candidate for first-time fish eaters.