Collection: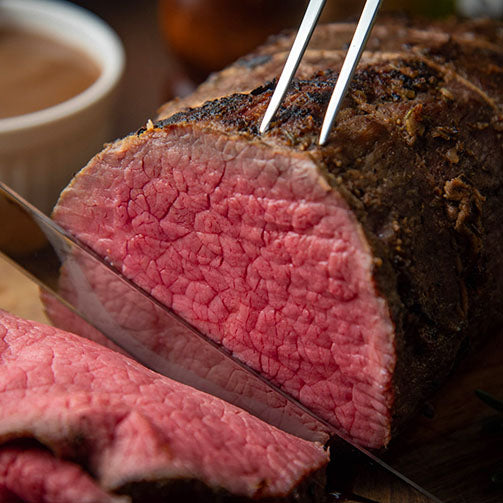 Collection:
Eye of the Round Roast
Eye of the Round Roast
Regular price

Sale price

$164.45
$14.95/lb., 11lb box, 4 x 2.75lb roasts vacuum packed, from AAA aged beef
It is a roast located in the center of the round primal, hence it's named the eye. Where other cuts are renamed and tweaked for all sorts of different reasons, the Eye of Round roast does not.
The eye of round roast is far from a favorite for many people, but we believe it is overlooked in error. It can be more than nice if cooked and treated well, so you should at least try once! 
We all love the popular choices of beef ribs, sirloin roasts, and pork loin roasts. But don't limit yourself to these, because there are plenty of other big cuts to choose from. And the Eye of Round roast is one of them.
This cut is relatively unknown and underused. And many of those who do know it assume it is a complete waste of time, effort, and dollar. If you fall into this way of thinking, let me bring you around to our way of thinking.