Collection: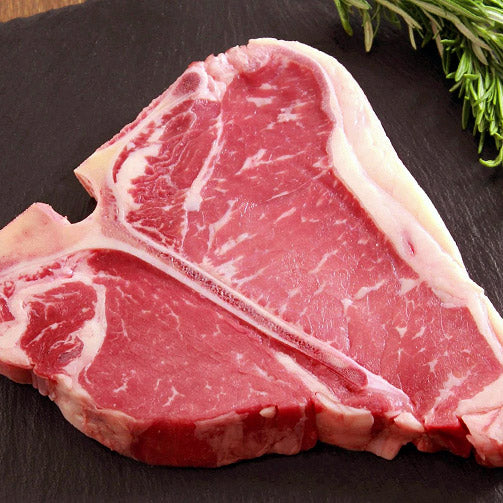 Collection:
T-Bone Steaks 16oz AAA
T-Bone Steaks 16oz AAA
Regular price

Sale price

$366.30
$33.30/lb., 11lb box, 16oz steaks individually vacuum packed, AAA aged beef
T-bone steaks are a cut from the short loin primal, the lower portion of a beef cow's back. T-bone steaks receive their name from the T-shaped bone that runs through the center of the meat.
There are two sides to each T-bone each containing a very different steak.  The larger steak is the Strip Loin and the smaller steak is the Tenderloin steak.  Each of these steaks are themselves prized in their own right for being quality dinner plate steaks.
The following T-bone tips will help you choose and prepare a great steak every time:
Choose a cut with a slight quantity of marbling, healthy-looking red color and white fat.
Always take your steaks out of the refrigerator at least 30min before cooking.
Season and lightly rub with olive oil before cooking, avoid salt however as it will draw the moisture out of the meat.
Use a fast dry-heat method of cooking.  A pre-heated skillet is perfect to cook to your desired level of doneness.