Collection: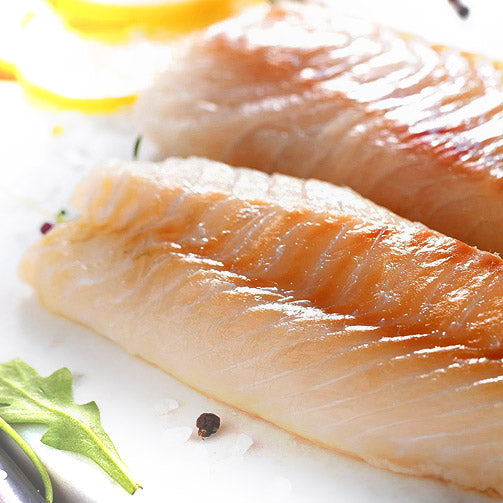 Collection:
Wild Pacific Cod Fillets (ClubPacks)
Wild Pacific Cod Fillets (ClubPacks)
Regular price

Sale price

$321.00
$16.05/lb., 20lb box, 6-8oz portions, 4 bags of 5lb in box. Individually Quick Frozen
Our Pacific Cod is delicious pan-fried or in the oven. Cod is a fish with mild, sweet flavor and large flaky white meat. The high protein meat can be used in home recipes for cod because the firm meat doesn't tasty fishy. Cod is also used in fish and chips as a substitute for halibut fillets. It is also a good source of omega- 3 fatty acids, vitamin B12, potassium and vitamin D.
The flaky white, mild flavored fresh cod fillets are available for sale throughout the year. It is popular as a food, a great alternative for meat protein and its versatility makes it readily adaptable to all methods of cooking. Its meat easily absorbs the flavors of anything you cook it with.
Our cod comes in 4-6oz portions and in 2 bags of 5lb in 1 box.  Fillets are quickly flash-frozen and loose packed, and we only partner with fisheries committed to working ethically and sustainably. All of our fish is seafood is Federally Inspected according to Canadian Food Inspection standards. Also available in regular packs.